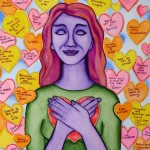 Have you ever received good advice about diet and nutrition that you were unable to follow? Has your doctor ever recommended a lifestyle change that you found to be unsustainable? Have you ever wanted something in your life, but found you couldn't achieve it alone?
Health Coaches are knowledgeable advisors who provide ongoing support and guidance as you set goals and make sustainable changes that improve your health and happiness. As your Health Coach, I will listen carefully and help you to navigate the world of contradictory nutrition advice to determine what changes are necessary for you.
Your personalized nutrition and lifestyle program will radically improve your health and happiness. Together, we will explore concerns specific to you and your body and discover the tools you need for a lifetime of balance.
As a client of my nutrition and lifestyle coaching program, you will…
Set and accomplish goals in a way that is empowering and exciting
Work to achieve and maintain your ideal weight
Understand and reduce your cravings
Get information on foods and food habits that will increase your energy
Discover which foods are right for your body
Learn about new foods and how you can easily incorporate them
Improve your personal relationships
Discover the confidence to create the life you want
Understand which carbs will satisfy you and help with weight loss
Discover recipes that you and your family will enjoy
Understand and reduce emotional eating
Learn how to organize yourself around food planning
Implement simple, effective ways to reduce your stress
Learn how lifestyle choices play an important role in your health
Understand the best way to eat to reduce your health symptoms
__________________________________________________________
Schedule a complimentary initial consultation now to learn more about the following program:
The SageSpoonLiving Commitment Program
How does this look? – Your 4-month program includes…
Cost of the Program:  $720
Location:  My home office – I also meet with clients over the phone and Skype
Length of the Program:  4 months
Session Length:  Eight 60-minute sessions every two weeks
Email Support:  I will check in with you over email to provide support
Monthly newsletter:  access to my monthly newsletter with the latest health tips and recipes
Materials:  Recipes, Step-by-step cooking instructions, Ingredients, Program binder with valuable handouts and information and one book
Hands-on Food and Kitchen Support:  Tour of a coop or other health food store, kitchen cooking and food prep demos, recipes that are healthy and simple to prepare
Personalized Support and Recommendations:  Customized counseling based on your individual health and life goals with specific recommendations after each session and support throughout the program.
Forms of Payment Accepted: Cash, Check
Who is this for? –  You are self-aware and ready to commit to exploring and experimenting with changes that will turn into sustainable lifetime health and diet habits.  You know you can use the support to make lasting changes and you think this program is what you need.
To decide if health coaching is right for you, I invite you to schedule a complimentary consultation with me.  During this session, we will discuss your health and lifestyle to determine how I can best support you in achieving your goals.