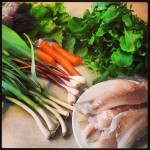 Have you ever received good advice about diet and nutrition that you were unable to follow? Has your doctor ever recommended a whole foods, healthy diet that you need help incorporating into your life, or have found unsustainable? Do you want to eat healthy whole foods, but find that you need help?   Schedule a complimentary nutrition consultation now!
SageSpoonLiving Whole Foods Cooking Lessons
One-Time Whole Foods Cooking Lesson
How does this look? – You can schedule a one-time 2-hour individual whole foods cooking lesson with me for $140 (includes estimated cost of ingredients).  I suggest that you take advantage of a complimentary nutrition consultation with me prior to the cooking lesson so that we can design your cooking lesson based on your health goals and needs.
4-Session Package Whole Foods Cooking Lessons
How does this look? – Your 4 cooking lessons (over 2-months) include…
Cost of the Program:  $520 (includes estimated cost of ingredients)
Location:  My home office
Length of the Program:  2 months
Session Length:  Two 1.5 – hour sessions and Two 2-hour session (scheduled every two weeks) (we'll figure out timing that works for both of us!)
Email Support:  I will check in with you over email to provide support
Monthly newsletter:  access to my monthly newsletter with the latest health tips and recipes
Materials:  Recipes, Step-by-step cooking instructions, Ingredients, Valuable handouts and information and one book
Hands-on Food and Kitchen Support:  Individualized kitchen cooking and food prep lessons, recipes that are healthy and simple to prepare
Forms of Payment Accepted: Cash, Check
Who is this for? –  You are self-aware and ready to receive more support around your diet and lifestyle.  You know you can use the support to make lasting changes in the kitchen and you think this program is for you!
To decide if individual cooking lessons are right for you, I invite you to schedule a complimentary consultation with me.  During this session, we will discuss your health and lifestyle to determine how I can best support you in achieving your goals.