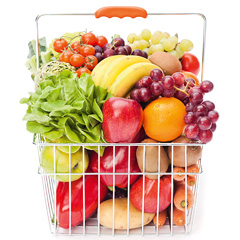 Have you ever received good advice about diet and nutrition that you were unable to follow? Has your doctor ever recommended a whole foods, healthy diet that you need help incorporating into your life, or have found unsustainable? Do you want to eat healthy whole foods, but find that you need help? Schedule a complimentary nutrition consultation now!
SageSpoonLiving Healthy Eating Grocery Store Tour
We usually stick to familiar aisles, food items and trusted brands when grocery shopping. A grocery tour will help open your eyes to the delicious and healthy choices  available. Good health starts with smart shopping. Learn about alternatives and find new brands. Understand why your bodies needs variety;  understand product labels and marketing myths. Feel empowered to make the best choices for you and your family.
How does this look? – You can schedule a 1. 5 hour individual grocery store tour with me for  $75.  I suggest that you take advantage of a complimentary nutrition consultation with me prior to your grocery store tour so that we can focus the tour to address your health goals and needs.